Leveraging AI To Bridge Gaps And Build Employee Communication Skills
Putting skills and know-how into practice is crucial for professional development. Fortunately, Artificial Intelligence (AI) combined with audio and video-based training gives you the power to provide hands-on experience, even if your team works remotely. This eBook shows you how you can make the most of modern tech to improve employee communication skills and boost on-the-job performance.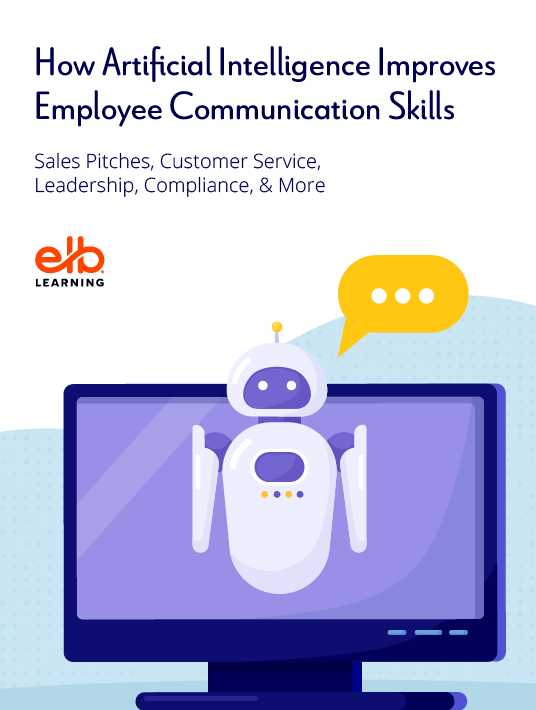 eBook Release
How Artificial Intelligence Improves Employee Communication Skills
Find out how organizations implement winning training techniques to improve communication skills—even when their mentors are busy!
The Importance Of Strong Employee Communication Skills
Ineffective communication in the workplace can lead to coworker conflicts, poor customer experience, and a whole litany of other issues that negatively impact your bottom line. Unfortunately, building soft skills is often easier said than done, as it requires real-world experience and practice. That's where AI and video-audio-based learning step in to provide immediate feedback and create personalized paths. Not only does this strategy improve communication among team members, but it helps them to better convey their ideas and interact with customers. For example, perfect their sales pitch by identifying consumers' needs and expectations, then effectively highlighting the product's perks. AI also helps with content creation, language processing, and adaptive learning to custom-tailor your training program and improve engagement.
About This eBook
How can you overcome L&D obstacles with Artificial Intelligence? Where does video-based training fit into your talent development strategy? Can solo practice with AI build employee self-confidence? Here's a sneak preview of what you'll find in this guide by ELB Learning:
The Rise of AI with the Power of Audio-Video-Based Learning
Take Video-Based Learning to the Next Level
How AI is Accelerating and Augmenting the Learning Process
Using Coaching in Combination with AI Dramatically Improves Performance
Surmounting Common Training Challenges with AI
Get Your Copy
Download How Artificial Intelligence Improves Employee Communication Skills today to leverage AI with audio and video-based practice to upskill your team.