In a series of Twitter Spaces AMA hosted by X100, agencies appointed by The Sandbox ecosystem dove into the challenges currently facing the metaverse. The topics of discussion included cash flow and funding, marketing expertise, onboarding of non-crypto natives and raising external capital.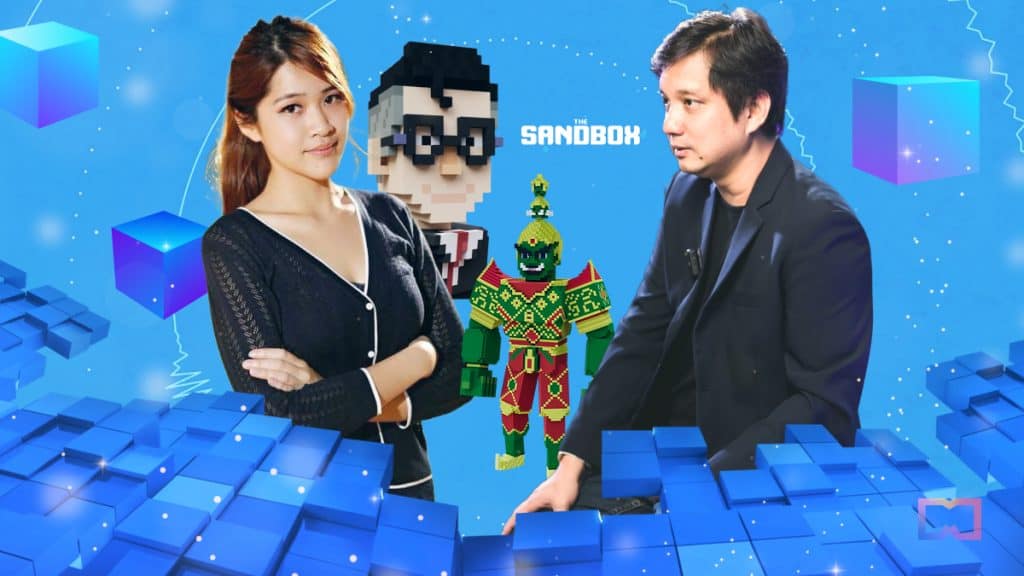 The Twitter Spaces AMA featured a lineup of distinguished guests, including Kriskay Choo, CSO of CGame Studio; Wing Woo, founder of ERM Labs; Tenn, Corporate Strategy Lead at Parapluie Studio; and Jacque, founder of Demo Corp.
These four agencies have been appointed by The Sandbox to help facilitate brands' intellectual properties (IPs) into the virtual platform. Based in Singapore, CGame Studio is one of the pioneering participants in the Sandbox ecosystem during its nascent stages, growing alongside the virtual gaming platform.
CGame Studio's array of services encompasses land rental, where Sandbox land serves as valuable advertising real estate for select community members and projects, enabling landowners to monetize their assets. Voxel design of NFTs is also a focus for CGame Studio. The studio also offers advertising solutions and training academies, allowing its community to lease advertising space within The Sandbox's metaverse.
ERM Labs, headquartered in Australia, specializes in building e-commerce solutions for the entertainment industry. The company helps its clients digitalize their architecture, game content, game design, and branding, bundling these elements into a cohesive IP and an immersive metaverse escape room experience. The company now owns over 650 IPs and has partnered with the top 10 global escape rooms including Breakout Escape to bring them into the metaverse.
Founded in Thailand, Parapluie Studio is also an officially appointed agency by The Sandbox to help brands navigate game and metaverse development, NFT integration, and crafting unique experiences within The Sandbox. Similarly hailing from Thailand, Demo Corp operates as an advertising and marketing agency specializing in metaverse events, ranging from concerts and fashion shows to tourist attractions.
Challenges in the local context and onboarding new brands and users
Addressing the hurdles of onboarding users into the metaverse, particularly in Singapore, Kriskay Choo said that the nation is still contending with certain challenges. Despite the influx of metaverse companies to Singapore, the digital spending patterns of local residents are yet to fully mature, particularly in the wake of FTX's downfall. Many Singaporeans had migrated their cryptocurrency holdings to FTX subsequent to Binance's withdrawal of operations from the country.
Choo emphasized the necessity for a shift in our perception of the metaverse, given the prevailing sentiment following the advent of AI. He noted that in recent months, many have come to a consensus that the metaverse "is dead." In response, Choo advocated for a broader outlook, urging the public to recognize e-commerce and brand storytelling as use cases for the metaverse.
Going further, Wing Wu of ERM Labs said: "In Australia, there's still a lot of people who've never heard of Web3, or perhaps never even heard of blockchain." To address that challenge, ERM Labs has been working on an academy to raise public awareness of the Web3 space.
Explaining the role of AR, VR and AI and their broader impact on the metaverse, Wu said that people who are exposed to AI are a little bit more exposed to Web3 and that the impact of these technologies on society is inevitable. 
"Anyone that catches this wave is going to be so much better, and they will thank themselves actually, spending that time studying AI, studying VR and studying AR. Not only studying how that implication will work, but actually using that to impact your personal individual life as well,"

she stated.
In Thailand, Parapluie Studio is still waiting for local brands to step into the metaverse space. The studio is also building a Sandbox academy, aimed at educating potential clientele and brands about the business opportunities within this immersive virtual world.
As an advertising and marketing agency focusing on creating events in the metaverse, Demo Corp founder Jacque explained that The Sandbox is a "first front" to drive the brand's presence in the metaverse.
Maintaining a consistent revenue stream
CGame Studios finds its sustenance through its membership in the Game Maker Fund by The Sandbox. The studio secures funding for game development upon receiving approval from The Sandbox for its proposed games.
"That is why we chose the Sandbox at the start. They have a structure, they have different funds, they have a Creators Fund, and a Game Maker Fund. So for us, because we are able to deliver quality games, that's why we are funded by the Game Maker Fund for the game development," Wu elaborated. 
In the future, CGames Studios plans to strengthen its business model by incorporating the sale of NFTs as a strategic growth initiative.
As for ERM Labs, the company charges an affordable fixed $5 for Web2 users to play as many metaverse escape room games as they want on its platform, and heavily onboarding Web2 users into the metaverse. 
"We are planning to take this project, actually activating each escape room, one by one, and we're going to test the market. We're going to test the revenue model as well," Wu said.
Parapluie Studio is luckier than other startups as the studio has already received investor backing. The company's corporate strategy lead Tenn acknowledged that it's difficult for new startups to raise funds in the early stages, especially when it comes to innovative projects like the metaverse. 
"It's a new thing that people may know. They might not need it, or they may need it, it depends, though. It takes time and a lot of time for you to educate people to educate brands," Tenn said.
Like CGames Studios, Parapluie also receives funding from the Sandbox's Game Maker Fund as well as the Creator Fund. Adding to the conversation, Demo Corp founder Jacque said that for metaverse projects to survive, they cannot rely on just one revenue stream. Besides building experiences for the metaverse, Demo Corp has also been building augmented reality experiences.
Up next
In an era where flexibility is key, each agency has adapted to the ever-evolving metaverse landscape with their unique propositions. Stay tuned for the forthcoming Twitter Spaces AMA, featuring Pavlo Vinnyk, the founder of GATS Studio—a fellow partner of The Sandbox.