[ad_1]

By Lambert Strether of Corrente
Bird Song of the Day
Golden Vireo, Cañon del Sabino, Teotitlán, Oaxaca, Mexico.
* * *
Politics
"But what is government itself, but the greatest of all reflections on human nature?" –James Madison, Federalist 51
"Here's food for thought, had Ahab time to think; but Ahab never thinks; he only feels, feels, feels" –Herman Melville, Moby Dick
"The logic of the insult and the logic of scientific classification represent the two extreme poles of what a classification may be in the social world." –Pierre Bourdieu, Classification Struggles
Biden Administration
"Federal appeals court temporarily halts Biden's student debt relief program" [Politico]. • Oops. I guess the Department of Education won't be able to develop its mailing list for collections after all.
2022
* * *

"Ron DeSantis is Donald Trump with brains and without the drama" [Financial Times (NL)]. "DeSantis, 44, boasts Yale and Harvard degrees and what some describe as a photographic memory. The recovery effort appeared to be in solid hands as he rattled off statistics and organisational plans with a vigour and fluency that President Biden's handlers can only dream of." I didn't know DeSantis was, like George W. Bush, a Yalie. Was DeSantis, too, a towel-snapping frat boy? Apparently so: "At Yale, he also found refuge at the Delta Kappa Epsilon fraternity, an athlete-heavy club that featured barrels of beer and prominent former members, including the Bushes and Supreme Court justice Brett Kavanaugh. In his recent pandemic memoir, What Just Happened: Notes on a Long Year, the author and critic Charles Finch recalled two things about his former classmate, known then as 'D': he did an uncanny impression of baseball star Jose Canseco and, according to a friend, would tell dates he liked Thai food, but pronounced it "thigh". If they corrected him, Finch wrote, he would find an excuse to leave. 'He didn't want a girlfriend who corrected him.'" • Of course, W's persona worked out very well for him. Maybe DeSantis's will as well. Then again. Trump is sui generis:

[2024 GOP debate]

TRUMP: Ron—Ron DeSantis. You were very good to me, then what changed? [to audience] He's even named after me. Ron, Ronald, Dona—
DeSANTIS [nervously swallowing]: my, uh, my parents named me—
TRUMP: And he's ashamed! What a disgrace. A disgrace. [the crowd boos]

— Marbury v. Mad Online (@NickTagliaferro) October 25, 2022

"Without an Economic Message, Democrats Will Never Close the Deal" [Jeet Heer, The Nation]. "Just like the Labour Party, the Democrats have surrendered on the field of economic debate." • I don't think that's true. The Democrats don't feel they need to make an economic argument because their PMC base is doing fine, just fine. In any case, it's far too late for some kinda pivot to "the economy" in the midterms; two weeks of messaging won't do the trick. Biden had the opportunity to take the railroads by the scruff of the neck on behalf of the unions, but he punted 'til after the midterms as well (sorry for mixed metaphors). Same with Starbucks, Amazon, everything. Tactically, in any case, Heer is wrong. "Dance with the one that brung ya," which the working class is not. Amp up the existing messaging. More hysteria on Ukraine, please, along with election stealing, racism, abortion, "our democracy," Orange Man bad, and so forth.

"GOP wave threatens blue-state strongholds" [The Hill]. "Democrats are increasingly worried that Republicans will make gains in deep-blue strongholds such as New York and Oregon as the winds appear to shift in the GOP's favor ahead of next month's midterm elections. The GOP is making competitive bids to take back governorships in both states, which reliably go for Democrats in presidential elections. The Republican gains could also extend to the House, where the GOP is making inroads in the aforementioned states, along with Rhode Island and others. elsewhere too there are House districts of various shades of blue where this trend is emerging. Take, for example, Rhode Island's 2nd Congressional District: The seat has long been considered a safely Democratic one, having been represented by outgoing Rep. Jim Langevin (D) for two decades. But recent polling has shown Republican Allan Fung leading Democrat Seth Magaziner, including a Suffolk University-Boston Globe poll released last week that had Fung at 45 percent compared to Magaziner at 37 percent. And the race has been rated a "toss up" by the nonpartisan election handicapper Cook Political Report. In Oregon's 6th Congressional District, which has similarly been seen as favoring Democrats and which went for Biden by double digits in 2020, the race has also been rated a "toss up" by Cook. Though the district is not quite as blue as other House seats, the competitive environment has required Democrats to move around their resources."

"In the final days before the midterms, Democrats are deploying their party's biggest assets in Pennsylvania" [FiveThirtyEight]. "[T]here have been way fewer polls in 2022 than in past cycles. In 2010, pollsters conducted almost 1,700 polls of individual races for Senate, House and governor between early May and late October. By comparison, we have slightly more than half that number this time around — about 900. But this dropoff isn't sudden; it's been a more gradual decline over the past decade and a half. Interestingly, as the number of surveys of races at the state or district level has fallen, the number of national polls that ask about the generic ballot — which asks respondents which party they plan to support in their local U.S. House election — has more than doubled in 2022. This could be down to a couple of factors: For one thing, politics today are more nationalized than in the past, so pollsters may be incentivized to conduct national surveys, which will get more clicks and views. And it's also potentially more economical — and safer — to poll a national audience on different issues and the generic ballot — which, for instance, can produce multiple stories for a media organization — than to poll individual races at the state level. The former involves weighting polls by information about the national population, whereas state-level polls may require more difficult choices to properly interpret results, as we've consistently seen larger errors in certain states than at the national level." • Another classification struggle:

In Opinion

Quoctrung Bui, the deputy graphics director for Opinion, talked to 10 of the leading pollsters in the U.S. to discuss the midterm elections and what worries them the most about polling. Here's what they said. https://t.co/l6Zh96bGyZ

— The New York Times (@nytimes) October 25, 2022




* * *

NY: "NY-17 Rating Change: DCCC Chair Maloney Moves From Lean Democrat to Toss Up" [Cook Political Report]. "When Republicans' top Super PAC announced an ad buy against Democratic Rep. Sean Patrick Maloney (NY-17) in April, many assumed it was a gambit to troll or distract the DCCC chair. But two weeks out from Election Day, Maloney finds himself in deep danger, simultaneously fighting for his political life in his Hudson Valley seat and desperately trying to prevent Democrats from being swept out of the House majority. Both parties' internal polls show Maloney locked in a tight race against GOP Assemblyman Mike Lawler in the 17th CD, which is roughly three-quarters new to Maloney following redistricting. The CLF and NRCC have outspent Democratic groups $3.5 million to $384,000 so far, and the climate for Democrats in the state has deteriorated in the last few weeks as GOP Rep. Lee Zeldin has surged in the governor's race. Republicans have lampooned Maloney over revelations he hosted posh DCCC fundraisers in Paris and Geneva earlier this month, and for hiring his husband's personal trainer as a part-time driver on his congressional payroll." • $3.5 million v. $384,000? That's a lot.

NY: "Democratic campaign chief Maloney at risk of losing House seat" [Yahoo News]. "The irony is that Maloney actually switched districts earlier this year to run in an easier seat for a Democratic candidate to win. It is rare to see members of a party's national leadership lose their seats, and when they do, it is usually part of a dramatic wave election." • The DCCC's head defeated? What a shame that would be.

PA: "Trump Plans to Challenge the 2022 Elections — Starting in Philly" [Rolling Stone]. "Trump has been briefed on plans in multiple states and critical races — including in Georgia. But Pennsylvania has grabbed his interest most keenly, including in the Senate contest between Democrat John Fetterman and the Trump-endorsed GOP contender Mehmet Oz. If the Republican does not win by a wide enough margin to trigger a speedy concession from Fetterman — or if the vote tally is close on or after Election Night in November — Trump and other Republicans are already preparing to wage a legal and activist crusade against the "election integrity" of Democratic strongholds such as the Philly area. Trump's focus on Pennsylvania, however, seems to be more about his own political future than about party allegiance or fealty to his celebrity endorsee. As he hosts meetings on possible 2022 election challenges, he's also been laying the groundwork for a run in 2024 — where Pennsylvania again promises to be critical and competitive. As one source who has spoken to Trump several times about a potential post-election-day legal battle over the Oz-Fetterman race puts it, Trump views a potential midterm challenge as a 'dress rehearsal for Trump 2024.' Trump won Pennsylvania in 2016 and then lost it to Biden in 2020 by more than 80,000, and if the two candidates rematch in 2024, it could well be the state that picks the next president." • Interesting…

PA: "I Don't Care If It Costs Me the Next Election. I'm Going to Do What's Right." [Mother Jones]. "Campaign finance records show Fetterman's everyman persona is resonating. More than half of the $48 million Fetterman has raised comes from small contributions of $200 or less. In contrast, just 10 percent of Oz's $35 million haul has come from small donors. 'The word 'vibes' has become so overused,' says Adam Jentleson, a former senior aide to Senator Harry Reid, and the author of Kill Switch: The Rise of the Modern Senate and the Crippling of American Democracy. 'But I think there's something to it. People just trust him more on a gut level.'" • I think races rarely come down to debates. I think this one does. If puppy-killing charlatan Oz manages to make Fetterman look like a gimp on TV, that's not gonna be good. But if Fetterman makes it through the debate, I think he should squeak through, despite Oz's recent gusher of cash. Visiting every county really ought to count for something (and if you're on the left, you ought to be praying it does).

PA: "Taylor Swift Has a Fan in John Fetterman" [Teen Vogue]. "On Friday (October 21), Fetterman's team took to TikTok with a perfectly soundtracked jab at his senate opponent Dr. Mehmet Oz. For the video, Fetterman used one of Taylor's newest singles, 'Anti-Hero,' which has quickly gone viral for its made-to-meme lyric: 'It's me/Hi/I'm the problem, it's me.' As the lyrics play out, two blocks of text appear on the screen, the first of which read: 'The problem is people who run for office only caring about $ + power and not actually caring about people.' A second block of text appears with the words, 'I'm the problem it's me.' The video of Oz has him pointing at both captions, as if acknowledging his status as the referenced problem."

PA: "Scoop: Democrats deploy Biden and Obama to lock down Pennsylvania" [Axios]. "President Biden and former President Obama will barnstorm the Philadelphia and Pittsburgh areas on Nov. 5 with the party's nominees for Pennsylvania governor and Senate, according to a Democrat with direct knowledge of the plans. In the final days before the midterms, Democrats are deploying their party's biggest assets in Pennsylvania." • This isn't going to "lock down" Pennsylvania. At best it's going to lock down Philly, maybe the burbs.
Democrats en Déshabillé
Patient readers, it seems that people are actually reading the back-dated post! But I have not updated it, and there are many updates. So I will have to do that. –lambert

I have moved my standing remarks on the Democrat Party ("the Democrat Party is a rotting corpse that can't bury itself") to a separate, back-dated post, to which I will periodically add material, summarizing the addition here in a "live" Water Cooler. (Hopefully, some Bourdieu.) It turns out that defining the Democrat Party is, in fact, a hard problem. I do think the paragraph that follows is on point all the way back to 2016, if not before:

The Democrat Party is the political expression of the class power of PMC, their base (lucidly explained by Thomas Frank in Listen, Liberal!). ; if the Democrat Party did not exist, the PMC would have to invent it. . ("PMC" modulo "class expatriates," of course.) Second, all the working parts of the Party reinforce each other. Leave aside characterizing the relationships between elements of the Party (ka-ching, but not entirely) those elements comprise a network — a Flex Net? An iron octagon? — of funders, vendors, apparatchiks, electeds, NGOs, and miscellaneous mercenaries, with assets in the press and the intelligence community.

Note, of course, that the class power of the PMC both expresses and is limited by other classes; oligarchs and American gentry (see 'industrial model' of Ferguson, Jorgensen, and Jie) and the working class spring to mind. Suck up, kick down.

* * *

"'People are furious': Democratic backlash grows over progressive call to pursue diplomacy in Ukraine" [CNN]. "House Democrats are angry at Democratic Rep. Pramila Jayapal of Washington state for sending out a letter calling for the Biden administration to pursue diplomacy in Ukraine, with many publicly and privately fuming that the progressive leader blindsided them and revealed new divisions within their party over the war and with just days to go before the November midterms. 'People are furious – especially front-liners,' said one senior House Democrat, referring to the most vulnerable members at risk of losing their seats in the November 8 midterms." So0-called frontliners being, necessarily, the most reactionary Democrats. More: "'Timing in diplomacy is everything,' said California Rep. Sara Jacobs, a member of the Congressional Progressive Caucus that Jayapal leads. 'I signed this letter on June 30, but a lot has changed since then. I wouldn't sign it today.'…. A Jayapal aide declined to explain why the letter went out Monday. And some members said they didn't receive a follow-up on it before it was sent to Biden. 'They didn't check back with the signers before releasing it. I would have taken my name off,' said one member who signed the letter, who spoke with CNN under the condition of anonymity to speak freely. 'Timing is terrible.'" Meanwhile, the White House continues to insist that Zelensky is an independent actor: "'Mr. Zelensky gets to determine when he thinks that's the right time, and Mr. Zelensky gets to determine, because it's his country [tell that to the Azovs], what success looks like, what victory looks and and what sort of terms he willing to negotiate on,' [John Kirby, the strategic communications coordinator at the National Security Council] said. 'We're not going to dictate that.'" • A sternly worded letter is soon forgotten. But the timing seems odd to me, too. What's the purpose, whether tactical or strategic. Of course, if the Progressive Caucus had articulated a principled policy in Ukraine back in February or March, and kept hammering at it, there's be no need to gather signatures, in June and July, for a letter that went out in October. What were they waiting for? For The Blob to come to its senses, if any?

"House Progressives Float Diplomatic Path Toward Ending War In Ukraine, Get Annihilated, Quickly 'Clarify'" [The Intercept]. "On Monday Morning, 30 members of the Congressional Progressive Caucus sent a letter to the White House that attempted to gingerly open a conversation about a potential diplomatic end to Russia's war on Ukraine. The door was slammed shut by the evening, met with enough fury to elicit a 'clarification' in the form of a statement from caucus Chair Pramila Jayapal. 'Let me be clear,' Jayapal said in a statement issued just before 7 p.m., 'We are united as Democrats in our unequivocal commitment to supporting Ukraine in their fight for their democracy and freedom in the face of the illegal and outrageous Russian invasion, and nothing in the letter advocates for a change in that support.'…. That the letter was met with fierce opposition is a measure of the space available for debate among congressional Democrats when it comes to support for the war and how it might be stopped before it turns nuclear: roughly zero." • Oh, good. I'd like to herd them all into the CDC building before nailing the doors shut. It's really too much.

"How Democrats Botched Trump's Impeachment" (interview) [The Intercept]. Ryan Grim: "A new book out this week "Unchecked: The Untold Story Behind Congress's Botched Impeachments of Donald Trump" is chock-full of new details about both of the failed attempts to impeach Trump, including what I consider to be one of the most significant: On the day of January 6, there was a concerted effort by rank-and-file Democrats to impeach Trump that very night, and Democratic leaders from Nancy Pelosi on down rebuffed their effort in a way that may have changed the course of history." • Impeaching Bush in 2006 over warrantless surveillance plus Iraq would have changed history too, and Pelosi didn't do that either. Lots of good detail in this article.
Realignment and Legitimacy
"Hillary Clinton questions the integrity of 2024 election by already claiming 'right-wing extremists have a plan to STEAL it' – but offers ZERO evidence in fundraising video (and after she said questioning Biden's win was 'doing Putin's work)" [Daily Mail]. "The two-minute clip urged Americans to look past the 2022 midterms and turn out to vote in their local election, because she claims the conservative majority U.S. Supreme Court might give state legislatures the power to overturn results…. The video was put out on Twitter by the progressive group Indivisible Guide [I wondered what happened to Indivisible], which is running an initiative aimed at promoting progressive candidates in local state races on a website called Crush the Coup… Crush the Coup's website homepage reads in huge capital lettering: 'MAGA has a plan to steal the election in 2024. We have to stop them, today.' It further claims that Democrats need to focus on winning 29 local seats in six swing states – Arizona, Georgia, Michigan, North Carolina, Pennsylvania and Wisconsin…. Any Republicans who still question the outcome of the 2020 presidential election have been dubbed 'election deniers', even though Democrats have asked questions – and continue to question – the outcome of some previous elections. Now, Clinton is questioning results a full two years before an election was even held, despite her claims that Republicans pushing election fraud claims are helping push the Kremlin's agenda." • The Mail is right about that, at least. I don't much like "independent state legislature theory" either. I just wish the Democrats would find someone with standing to speak against it, and I wish it weren't being treated as just another "our democracy" talking point.

"Biden admin set to warn about threats to nation's election infrastructure" [Politico]. "The internal administration concerns about election threats come days after a call was held between federal officials and local law enforcement personnel about the midterms, according to one of the people familiar with the matter. Those on the call discussed the potential for violence in response to the spread of false narratives regarding the election process. Officials said election workers, including those working at polling stations, are likely to face threats and harassment from extrements both online and offline, the person familiar with the matter said. 'We are now hearing reports of people surrounding ballot drop boxes, some even wearing tactical gear, and questioning people,' said John Cohen, the former counterterrorism chief at DHS. 'Are the police prepared for that? They need to be. All of this is being driven by the false narrative that the 2020 election was stolen.'" • Note that the Democrats have done nothing, zero, zilch, nada on this. (Tactically, all the "convenience" crapola like drop boxes and mail-in ballots does is increase the attack surface. Start with making Election Day a national holiday, and then go back to the concept of voting locations by precinct, hopefully run by "little old ladies" (sorry, actually existing small elderettes), and with hand-marked paper ballots, counted (hopefully by hand) in public. (Yes, I know that mail-in ballots work in Oregon. I just don't think that's going to scale out nationally, for obvious, if unjust, reasons.)
#COVID19
• Maskstravaganza:
Fun fact – Dr. Walensky has not tweeted the word "mask" since July (she has retweeted the CDC weekly community levels with its "consider masking" guidance, but that's it). pic.twitter.com/BfFvEKYcOH

— Jon Levy (@jonlevyBU) October 22, 2022
• Maskstravaganza:
Yup. We took the best of America, the helpers who risked their time and capital in a time of great need, and betrayed them. And virtually no one in a position of power even notices. https://t.co/gcwfOOp6Jj

— Matt Stoller (@matthewstoller) October 23, 2022
Biden Administration polices, IIRC, destroyed all the small businesses in favor of Chinese manufacturers and giant monopolies like 3M because hospital adminstrators wanted masks the lowest possible price. Hence, the lack of innovation. Almost three years into what is surely not the last pandemic of respiratory pathogens, and we're wearing medical devices on our faces, instead of fashion items (since that is the sort of innovation small firms not selling to hospitals would create).
* * *
• Speaking of fashion items:
Thank you for your inspiration and guidance. This is our fourth one which my kids built by themselves. pic.twitter.com/XSzjs8F2IM

— Manu (@manup_us) October 22, 2022
Still waiting for Doctor Biden to go on Good Morning America and bulid a Corsi-Rosenthal box, along with some adorable schoolchildren.
• "Build an Indoor Air Quality Monitor with WisBlock" [RAK Documentation Center]. "The WisBlock ecosystem now offers multiple sensors required to build an indoor air quality sensor that covers the most important values." • An Arduino project. I wish there were miniaturized sensors for cellphones, but perhaps not yet.
* * *
• A very good question:
More fair game. Why don't we have more of it for COVID? pic.twitter.com/0EcEjraB1d

— Gregg Gonsalves (@gregggonsalves) October 23, 2022
ACT-UP was, AFAIK, a very ambitious, disciplined, and succcessful project. Perhaps that's why amnesia has set in about its methods and achievements.
* * *
• "The great Texas COVID tragedy" [PLOS One]. "The United States of America leads all high-income nations in COVID-19 deaths, even though as a nation at had the greatest access to antiviral vaccines and therapeutics. To understand this disconnect we can look to the COVID-19 deaths and disability in the State of Texas. Because of COVID-19, Texas is enduring one of the greatest human tragedies in its 186-year history. It did not have to be this way…. The disproportionate deaths in Texas among Hispanic and African American groups in 2020 (and possibly thereafter) followed by conservatives who refused a COVID-19 immunization in 2021–22 will leave a haunting legacy for Texas…. In Texas, many if not most of those who died from COVID-19 in the last half of 2021 and into 2022 could have been saved through immunization. Instead, they became victims of antivaccine activism and aggression that now predominates—for years Texas has been ground zero for the antivaccine health freedom movement in America. Another grim reality: It is doubtful that antivaccine activism will dissipate with the end of the COVID-19 pandemic. Instead, many signs point to its spillover to all childhood vaccines leading to significant protests and future legislative action against Texas school immunization mandates."
• And yet there is hope: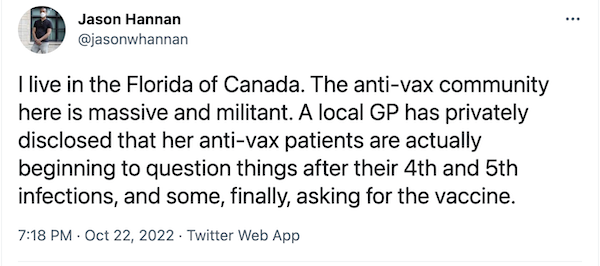 ("Experience is a hard school, but a fool will learn in no other." To qualify, I'm not making the argument that vax is good in all cases; it isn't. I'm arguing that minds can change, which is good to know.)
* * *
• And for the RCT fetishists:
Show me the high quality RCTs of clean water to prevent cholera.

I'll wait.#FecalUrgencyofNormal #YouDoPoo https://t.co/RAVpFqROCi

— Neoliberal J🎃hn Snow (@NeoliberalSnow) October 25, 2022
* * *
The CDC is down, as of this writing:

How am I supposed to be doing my personal risk assessment with no data?
Positivity
From the Walgreen's test positivity tracker, October 18: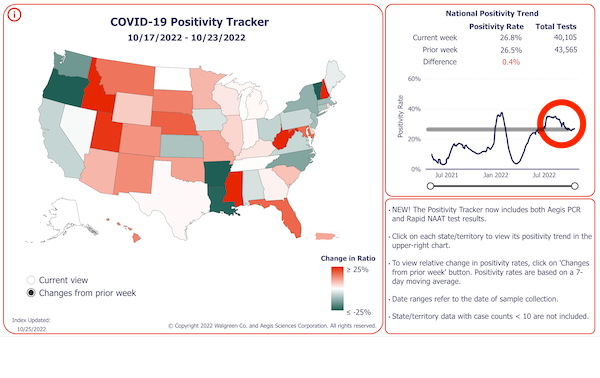 0.4%. Slowed increase.
Readers, please click through on this, if you have a minute. Since Walgreens did the right thing, let's give this project some stats.
Variants
Lambert here: It's beyond frustrating how slow the variant data is. Does nobody in the public health establishment get a promotion for tracking variants? Are there no grants? Is there a single lab that does this work, and everybody gets the results from them? Additional sources from readers welcome [grinds teeth, bangs head on desk].
NEW Variant data, national (Walgreens), October 7: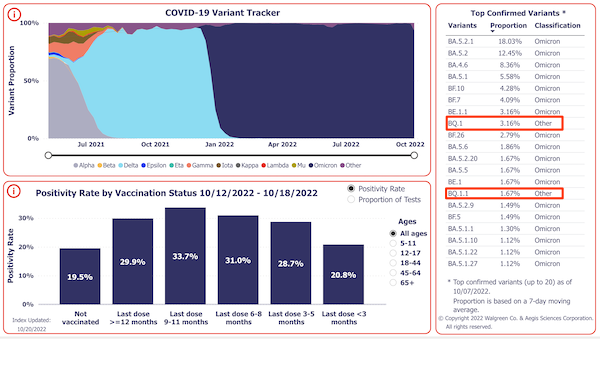 Lambert here: BQ.1*, out of nowhere. So awesome.
Deaths
Death rate (Our World in Data):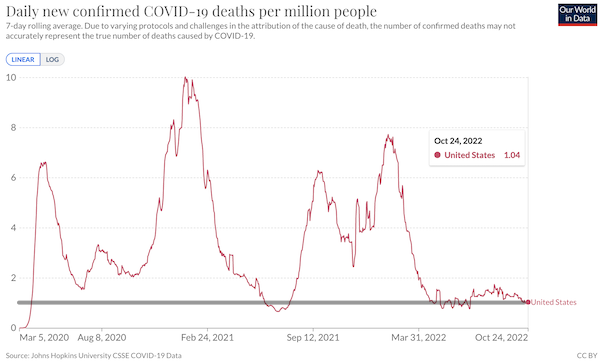 Total: 1,093,153 – 1,092,409 = 744 (744 * 365 = 271,560, which is today's LivingWith™ number (quite a bit higher than the minimizers would like, though they can talk themselves into anything. If the LivingWith™ metric keeps chugging along like this, I may just have to decide this is what the powers-that-be consider "mission accomplished" for this particular tranche of death and disease.
It's nice that for deaths I have a simple, daily chart that just keeps chugging along, unlike everything else CDC and the White House are screwing up or letting go dark, good job.
Stats Watch
Manufacturing: "United States Richmond Fed Manufacturing Index" [Trading Economics]. "The Manufacturing Activity Index in the US fifth district fell to -10 in October of 2022 from 0 in in September, the lowest since May of 2022, as two of its three component indexes deteriorated notably. The indexes for shipments and volume of new orders fell from 14 and -11 in September to -3 and -22 in October, respectively. The third component, the employment index, remained unchanged at 0 in October, as hiring challenges persisted."
* * *
Capital: "Ventures & Networks" (interview) [Sebastian Mallaby, Phenomenal World]. Mallaby: "A diversity of actors that have slightly different objective functions or analytical processes is ultimately a healthy thing. You get different types of investors with different levels of risk appetite, and different specialties in terms of which part of the economy they understand. That diversity is more likely to yield sound capital allocation than a monolithic system in which all the capital is allocated either by the government or by banks or by some other particular player." • Now explain Silicon Valley's turn toward innovative rent-seeking.
* * *
Today's Fear & Greed Index: 52 Neutral (previous close: 48 Neutral) [CNN]. One week ago: 34 (Fear). (0 is Extreme Fear; 100 is Extreme Greed). Last updated Oct 25 at 1:37 PM EDT. October, and no crash yet. It's like waiting for the Ukrainian Kherson counter-offensive. As always for bears, the issue is timing….
Rapture Index: Closes down one on Floods. "The lack of activity has downgraded this category" [Rapture Ready]. Record High, October 10, 2016: 189. Current: 187. (Remember that bringing on the Rapture is good.)
Photo Book
Perhaps the paintings are more "accurate" than the photos?
Monet's garden photographed by me pic.twitter.com/FKV6EAhL1t

— Samantha Cavet (@samanthacavet) October 23, 2022
The Gallery
"The Warhol Foundation's Basquiat and Mine" [Ishmael Reed, Counterpunch]. "My play, "The Slave Who Loved Caviar," challenged the perception promoted by the Manhattan art industry that painter Jean Michel Basquiat was Andy Warhol's 'mascot.' Or it was because of Warhol's beneficence that Basquiat, born of Haitian and Puerto Rican parents, became famous…. My play depicts Warhol as a depraved and decadent leader of a death/suicide cult. He didn't care whether the young people he exploited lived or died, yet in McCarten's play, Warhol says to Basquiat: 'Is that why your paintings are filled with so much death?' Warhol merchandised death. Car crashes. Executions. Andy Warhol appropriated a picture of Evelyn McHale's suicide for his 'Suicide: Fallen Body' (1962). His response to the suicide of his actress Edie Sedgewick and dancer Freddie Herko was that he wished he'd been there to film their suicides. When he received an urgent plea from one of those who truly cared for Basquiat, Paige Powell, that Basquiat's cocaine addiction had become life-threatening, Warhol quipped: 'Maybe he wants to be the first to go out early.' However, in [a competing play] 'The Collaboration,' Warhol is portrayed as a naive, clean, church-going individual who cares about Basquiat's welfare…. Warhol found Basquiat disgusting. He called him 'dirty' and regarded him as a nuisance. This and other negative views of Basquiat held by Warhol are published in Warhol On Basquiat, edited by Michael Dayton Hermann. Warhol's screenwriter Ronald Tavel thought Warhol lacked compassion. He said, 'Sometimes I admit that his coldness was shocking.'" • Not a nice person at all, Warhol. Here's a Basquiat, instantly recognizable despite the lack of imagery except for, well er, a boat:
UNTITLED, Jean-Michel Basquiat, 1982 #blackarthistory pic.twitter.com/HcJwC8WRuK

— Artists of Colour (@artistsofcolour) October 16, 2022
No mascot here. As a palate cleanser to the controversy, another Factory than Warhol's:
Edward Hopper, Box Factory, Gloucester, (1928) #museumarchive #museumofmodernart https://t.co/A6ZECOQfSn pic.twitter.com/PMxwh7XDLN

— Edward Hopper (@artisthopper) October 22, 2022
Class Warfare
Deindustrialization:
One of the most depressing things on Reddit I find is the "Machinist Hauls" folks who find a lifetime of tools at a yard sale, sold by the relatives of someone who had no one to pass them onto. Half a century or more of skill- and no one to carry on your legacy😢 pic.twitter.com/k3nA1SBJZt

— Naomi Wu 机械妖姬 (@RealSexyCyborg) October 23, 2022
Items sold at estate sales would be an extremely interesting metric to have, although over decades.
News of the Wired
A very nice grape arbor, too!

* * *
Contact information for plants: Readers, feel free to contact me at lambert [UNDERSCORE] strether [DOT] corrente [AT] yahoo [DOT] com, to (a) find out how to send me a check if you are allergic to PayPal and (b) to find out how to send me images of plants. Vegetables are fine! Fungi and coral are deemed to be honorary plants! If you want your handle to appear as a credit, please place it at the start of your mail in parentheses: (thus). Otherwise, I will anonymize by using your initials. See the previous Water Cooler (with plant) here. From CF: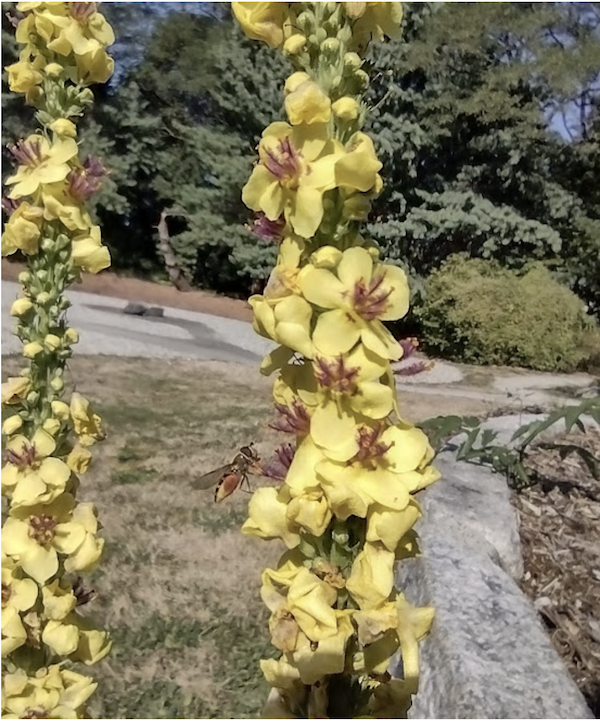 CF writes: "One of the busy volunteers at the Van Deusen Botanical Garden."
* * *
Readers: Water Cooler is a standalone entity not covered by the annual NC fundraiser. So if you see a link you especially like, or an item you wouldn't see anywhere else, please do not hesitate to express your appreciation in tangible form. Remember, a tip jar is for tipping! Regular positive feedback both makes me feel good and lets me know I'm on the right track with coverage. When I get no donations for five or ten days I get worried. More tangibly, a constant trickle of donations helps me with expenses, and I factor in that trickle when setting fundraising goals:
Here is the screen that will appear, which I have helpfully annotated: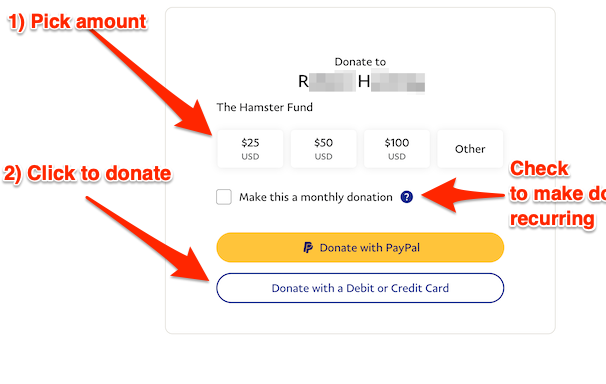 If you hate PayPal, you can email me at lambert [UNDERSCORE] strether [DOT] corrente [AT] yahoo [DOT] com, and I will give you directions on how to send a check. Thank you!



[ad_2]

Source link