[ad_1]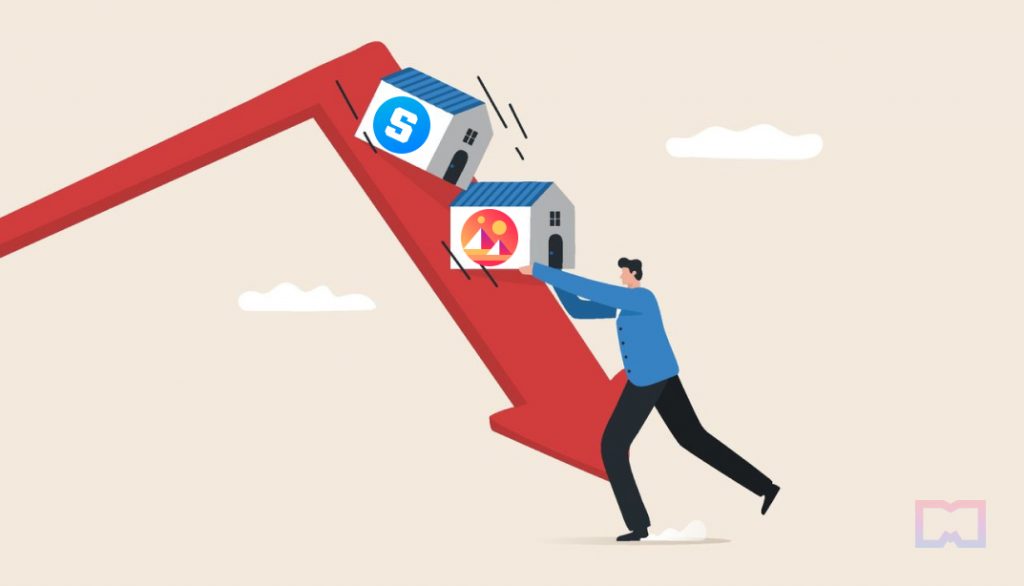 Many agree that the metaverse has a promising future, but currently, the virtual world business doesn't seem to be doing well. Data from a few months ago showed that in 2022, virtual land sales plunged by 85%. Several news sources last week reported that the daily number of active users in two popular metaverses – Decentraland and The Sandbox – had reached around 500 users. 
Last year, people spent $501 million buying digital land in the metaverse. Experts predicted that sales would double in 2022. However, the graphs show the opposite trend.  
WeMeta statistics indicate that Ethereum-based metaverse project sales dropped to about $2,500 from almost $21,000 in January. The largest metaverse land seller, The Sandbox, saw an average land sale volume drop to just $2,800 from $35,500. Across the six metaverses, the weekly volume of digital land purchases fell from $64.1 million in one week, reported in November 2021, to $710,177 in October 2022.


Yuga Labs' Otherside metaverse pushed the numbers up in 2022, as the Otherdeed digital land sale reported record sales this year. Otherdeed NFTs launched on April 30 and have an all-time sales volume of 349K ETH (currently over $513 million).
Number of users in decentralized metaverses
As per data by DappRadar, in the past 24 hours, 23 active users interacted with Decentraland's smart contracts, while The Sandbox reported 612. It's worth noting that DappRadar uses 12 smart contracts from Decentraland and 34 from The Sandbox. 
Last week, a user on Twitter reported data from GitHub that shows around 500 users in a day. However, Decentraland has recently shared that there are approximately 8,000 daily and 56,697 monthly active users on the platform. 
Decentraland is a $1.3 billion platform, while The Sandbox is valued at over $4 billion. Even though the general audience isn't as active in the metaverse as before, various brands and celebrities are still rapidly entering the two metaverses and expanding their businesses.
A report shared by EarthWeb predicted that one in every four people will be active in the metaverse by 2026. Moreover, the metaverse compounding annual rate is set to grow by 47.6% from 2021 to 2029. The report also noted that currently, there are 50,000 users in the Web3 virtual worlds and 412,578 users in the NFT space. 
Despite declining sales in decentralized worlds, Meta reported a $2.8 billion loss in its metaverse division, Reality Labs, earlier this year.
Even with the declining interest in the metaverse, partly due to the current bear market, the virtual world is expanding. According to last month's report by Cryptomeria Labs, the metaverse industry has already raised $120 billion in 2022. As the industry is still in its early stages and is continually growing, experts suggest that metaverse platforms should become mainstream by 2025.


[ad_2]

Source link