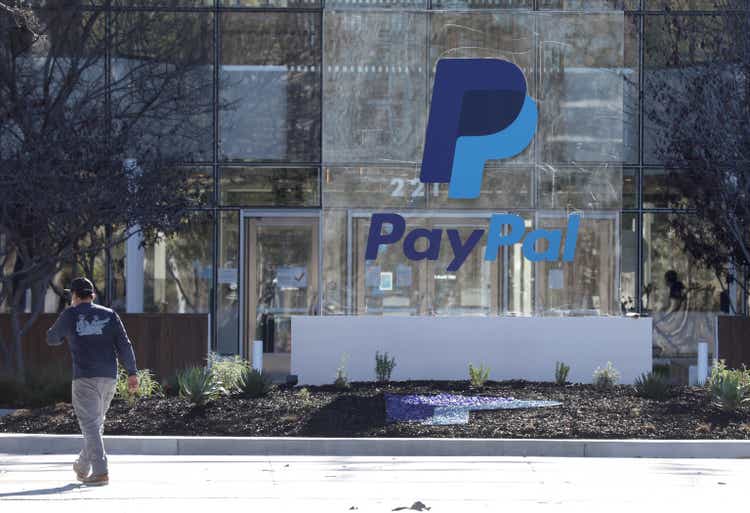 PayPal Holdings (PYPL) shares are surging 13% in Tuesday after-hours trading after the fintech boosted its full-year guidance.
The fintech guides for Q3 adjusted EPS of $0.94-$0.96 vs. consensus of $0.95; sees net revenue of $6.80B vs. $7.02B consensus.
For full-year 2022, the company now expects adjusted EPS of $3.87-$3.97, topping the consensus of $3.85, and increased from its prior range of $3.81-$3.93. Revenue is expected to reach $27.85B vs. consensus of $28.18B.
PayPal (PYPL) expects 10M net new actives in FY2022.
Q2 adjusted EPS of $0.93, topping consensus of $0.87, increased from $0.88 in Q1 and fell from $1.15 in Q2 2021.
Net new active accounts were 0.4M in the quarter vs. 2.4M in Q1. Total active accounts were 429M, up 6% Y/Y.
Q2 revenue of $6.81B, exceeding consensus of $6.78B, rose from $6.00B in the prior quarter and from $6.24B in the year-ago period; Q2 total payment volume ("TPV") of $339.8B grew from $323.0B in the prior quarter.
"Our second-quarter results were solid with currency-neutral revenue and non-GAAP earnings growth exceeding expectations," said President and CEO Can Schulman. "We continue to gain share as we execute across our key strategic initiatives, even as we drive operational efficiency across our business."
Venmo processed $61.4B in TPV, up 6%% Y/Y, and up from $57.6B in Q1.
Cash flow from operations of $1.5B vs. $1.2B in Q1; free cash flow of $1.29B vs. $1.1B in the prior quarter.
Conference call at 5:00 PM ET.
Earlier, PayPal (PYPL) non-GAAP EPS of $0.93 beats by $0.06, revenue of $6.8B beats by $20M, raises FY22 EPS guidance